French Culture from the Perspective of Lunchtime at School in France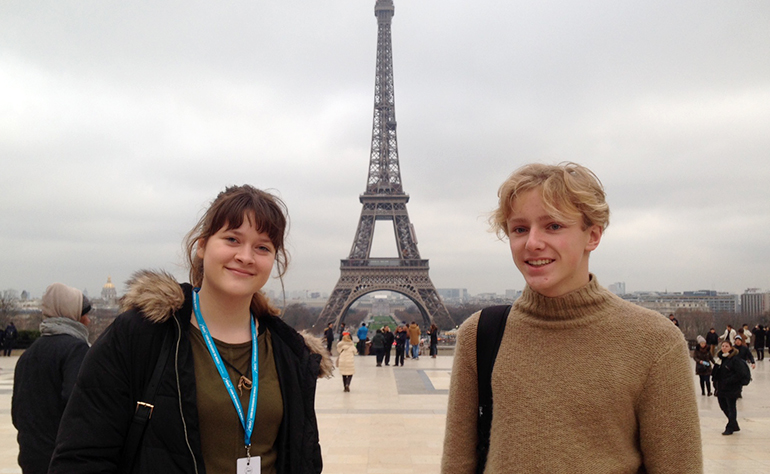 Coming to France to study abroad I knew I would be lucky in terms of food quality. I think we can all agree that when it comes to cuisine, the French simply hit the ball out of the park. One thing I sorely underestimated; however, was what my school lunches would look like and how they would differ from what I'm used to.
French Cooking
So far in France I've been only impressed by the food. And believe it or not, this didn't end at school. Cooking is something I've learned the French take very seriously. They take pride in their reputation as one of the gastronomic capitals of the world.
Rightfully so, the open markets and street-side cafes boast fresh fruit, aged cheese, and of course mouthwatering fresh-baked pain au chocolat. These foods are generally free of GMOs and a good price at that (if you're in the right area, of course).
Something I've come to understand even since arriving here is that the French are taught to enjoy and appreciate the quality of meals/ingredients from a young age. With a solid appreciation of a rich meal, it only makes sense that these feelings are translated over to lunch at a public school.
American School Lunch vs. French School Lunch
It's been exciting comparing the different ways of life between America and France. This is one area where they differ greatly. Coming from a school in the United States where meals are seen more as a vehicle to the next activity, school lunch is thirty minutes then straight back to class.
I have had the joy of experiencing high school life in France where lunch, or "self" as they call it, is anywhere between one and two-and-a-half hours, and the meal can be described as a slightly toned down version of a proper four course French meal.
After waiting in the line, scanning your card and receiving your tray, the first station you approach contains salads or vegetables, our appetizer of sorts. We proceed to obtain the main dish, which usually consists of some type of meat paired with some type of carb. Moving on is the dairy product, whether yogurt or a small block of cheese ALWAYS accompanied by a demi-baguette. To finish, a selection of desserts ranging from a delicate mille feuille to a rich caramel flan awaits.
From Table to Culture
A menu like this can seem like a dream come true, but truly every day at school becomes an opportunity to learn more about French food culture and how it connects to their culture as a whole. I think we all have something to learn from the French. Work hard but enjoy your breaks. Especially in such a stress-providing place as French high school, a captivating conversation with friends over a quality meal and time to relax after is ultimately what I think helps keep student morale high.
Ready to taste more of the French culture? Study abroad in France!