Stay Busy in Bangkok: What to Do with 48 Hours in the City of Angels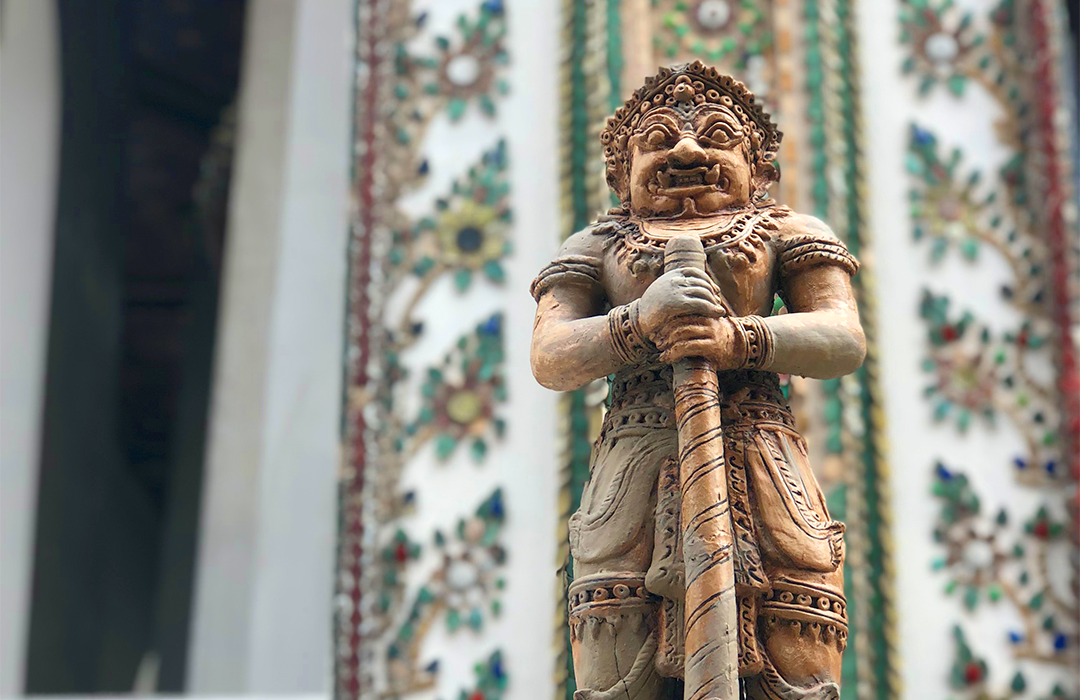 You know that saying, "first impressions are everything?" Well, when you're traveling, especially for the first time, you need to forget you ever heard that saying. You may think first impressions only come from people, but they can also come from places.
Upon my arrival in Thailand, I found Bangkok to be smoggy, boisterous, and overwhelming, both physically and mentally. Even the air in Bangkok was overwhelming, the heavy air and heat felt like a constant weight on your body. I admit I was completely taken aback and turned off from the city. Which caused a bit of disappointment in myself, because even though I had never traveled before, I fancied myself as an adaptable and open-minded person. 
The first few days in Thailand I barely left my hotel room. I would venture out to get the free hotel breakfast and sulk back to my room, afraid to step outside into the unknown. One day, I gathered up the courage to walk the streets around the hotel (rather, my roommate gathered up the courage for me and told me to come with her). Instead of taking the time to notice all of the wonderful new things about the country, I only noticed everything that was different. It was as though I was going through the motions of experiencing something for the first time, never really allowing myself to take things in.
It was about three weeks into my internship in Thailand that it dawned on me: the problem wasn't with Bangkok. The problem was with me. In just three short weeks, I had become a different person from the one that came out of the airport and stepped onto the streets of Bangkok in trepidation. This is why when a few of my friends invited me for a weekend trip to the City of Angels, I jumped at the opportunity. 
If you have the pleasure of spending 48 hours in Bangkok like I did, here are some things that you absolutely MUST do.
Visit the Reclining Buddha
Have you ever had one of those moments in life when you see something so grand and magnificent that you feel completely insignificant and small, but in a good way? That was what it was like stepping into the temple of the Reclining Buddha. From the outside, the temple looks fairly inconspicuous, but once inside, you are immediately greeted by the massive relaxed smile of the Reclining Buddha. This figure is over 46 meters long and is covered in gold leaf. You can even drum up some good luck by purchasing a jar of coins and dropping them in the 108 bowls that line the temple. 
Stay in a Hostel
I stayed in a hostel for the first time ever while in Bangkok, and maybe it is just my novice status talking, but I absolutely loved the experience. It is such a good way to meet new people and is fairly inexpensive. Hostels are also great for suggesting events and attractions that are authentic without being touristy. 
Walk Everywhere
I already know what you're about to say. Why would I want to walk when the Bangkok heat is sweltering and taking a taxi would be a lot faster? One of the most important things to know about Bangkok is that walking will usually be a lot faster than driving, especially if you're going to a tourist attraction. I know I said the air in Bangkok was heavy, but the traffic is a thousand times heavier. Besides, one of the best ways to get to know a city is to walk down her streets. 
Go to the Grand Palace and See the Temple of the Emerald Buddha
One of the things I loved the most about Bangkok was the history and stunning architecture of the Grand Palace. There's a reason why the Grand Palace is on the list of the world's 50 most visited tourist attractions. Every single building, big or small, has been artfully designed and intricately decorated with shimmering mosaic tiles and jewels. I have never seen so many colors before in my life.
The buildings of the Grand Palace are all gorgeous, but they pale in comparison to the structure that houses the Temple of the Emerald Buddha. This is the most sacred Buddhist temple in Thailand, and the Buddha figure was carved from a single block of jade. The Emerald Buddha is something that you must see in person, especially because visitors are not allowed to take pictures or videos once inside the temple. Take my word for it, you won't want to miss out on this one. 
Visit Jay Fai's Restaurant
In 2017, Jay Fai's became the first Thai street food restaurant to be awarded a Michelin star. Chef Jay Fai has been featured in the Netflix documentary Street Food, and many come to Bangkok just to eat at her restaurant. Reservations are booked months in advance, but they do accept walk-ins if you're willing to wait in line all day. Our hostel happened to be right down the street from the famous restaurant (another reason you should stay in a hostel). If you can't make a reservation or wait in line all day, Jay Fai's is still worth visiting just to see the iconic Chef in action. True to the style of her food, Chef Jay Fai cooks out on the street, and there is always a mesmerized crowd gathered outside her restaurant. A trip to Bangkok is not complete without seeing the legend in her signature thick black goggles, whipping up the best food in the city. 
Bangkok is a smoggy, boisterous, and overwhelming city. But it is also a historical, exciting, and energetic place. So if you find yourself in Bangkok for the first time feeling overwhelmed and writing the city off, give yourself three weeks and come back. You never know what you might find once you look again with fresh eyes. 
Amanda Voyles, from Tallahassee, Florida, is a Greenheart Travel First Time Traveler Scholarship recipient. Learn more about Greenheart Travel's scholarship opportunities to help you travel for a change!