Emily's Favorite Experiences While Living in Fukuoka, Japan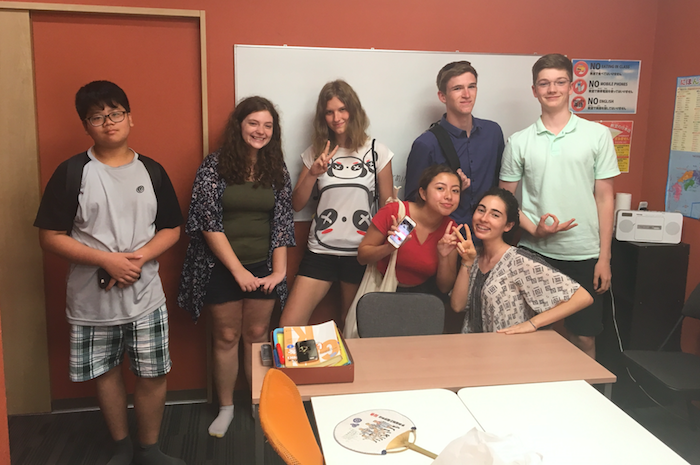 Being in Japan on my Teen Summer Language Camp program for almost three weeks has been amazing! I know I haven't seen every bit of everyday life, but the experience has been unbelievable. As one can imagine, just being here has opened my eyes to how other people in other countries live. The friends I have made are from all over the world, and we will often exchange stories.  In fact, I'm looking forward to keeping in touch with them after we leave for our respective homes. I haven't really made any Japanese friends my age, but I know I will in the future.
Host-Family Excursions
My host family has been extremely kind. They have taken me to many places on multiple occasions. On my first full Sunday, they took me to Canal City. They let me choose where to eat and where we went, and they took me places they had to go as well. We went to the Moomin Cafe for lunch, then the Totoro store, and then to a bunch of other stores. We also went to the shopping street near Nakasu-Kawabata Station. It was really neat. My host mother explained the history of the street as well which was very helpful. On my second and last full Sunday, my host mother took me to Tenjin Station so we could both look at the stores there. They also took me to see fireworks.  The fireworks were spectacular and lasted about an hour. It was an amazing show, one I videoed for friends and family back home.
Culture Shock
I believe I have been going through a mild form of culture shock. It is just me wanting to stay in my room to watch movies. I'm not sure if that's culture shock or the routine from the long summers in the US coming back to bite me. Either way, I've been pushing myself to get out and explore more and learn more which is a good lesson to take back to the States. As a result, I got out and went to Bayside Place. I had BelWaffles, which was really good, and I took a lot of neat pictures from both the bus ride and Bayside Place itself.
Favorite Food
One of the first foods my host mother made was ハヤシライス or "Hayashi Rice". It was so good! The gravy had so many different flavors that worked so well with the beef and onions. It makes my mouth water just thinking about it. I liked it so much that I also got it at the Moomin Cafe, which ended up not being as good as my host mother's. It was still pretty good.
My first food here was mayo and tuna onigiri. I had it on the flight to Fukuoka, but I had bought it in Narita. I really liked the taste and remembered the light blue seal so I've gotten it many times for lunch during my stay. The convenience stores also have meals that they will heat up, and the one I had was very good. I also got メォンパン or "Melon Bread". It had a nice outer crust dusted with sugar and a soft inside. It has to be one of my favorite things. Some other must-try things are Milk Pudding and プリン which is like a Japanese custard. Both are really good desserts.
Missing Japan
I think the thing I'll miss most about Japan, besides my wonderful host family, is the ability to walk and ride the bus and/or train. I take the subway back and forth to school and walk the distance between the station and the destination. That is something that doesn't exist in my small town. I have a car back home, but I don't prefer driving over walking and taking the subway. The latter provides so much freedom to do things while traveling that driving can't.
I also think I will miss the showers. The shower room is comprised of a tub and a shower positioned to the side. I personally enjoyed taking my showers without the water running the whole time. It gave me the sense that I was saving water and being more eco-friendly. I did not actually use the tub because it was not common for my family but the bathing experience will definitely be something I miss.
I've met so many amazing people and experienced such a great culture that I can't help but want to come back to experience and learn even more. I would also like to visit my host family again as they have been some of the kindest people I've ever met. I really look forward to my next visit which will hopefully take me to another part of Japan, possibly north.
Emily Pipkin, from small-town Illinois, is a Greenheart Travel First Time Traveler Scholarship recipient. Learn more about Greenheart Travel's scholarship opportunities to help you travel for a change!
Do you also have a love for Japanese culture? Learn more about our programs!