Travel Makes the Greenheart Grow Fonder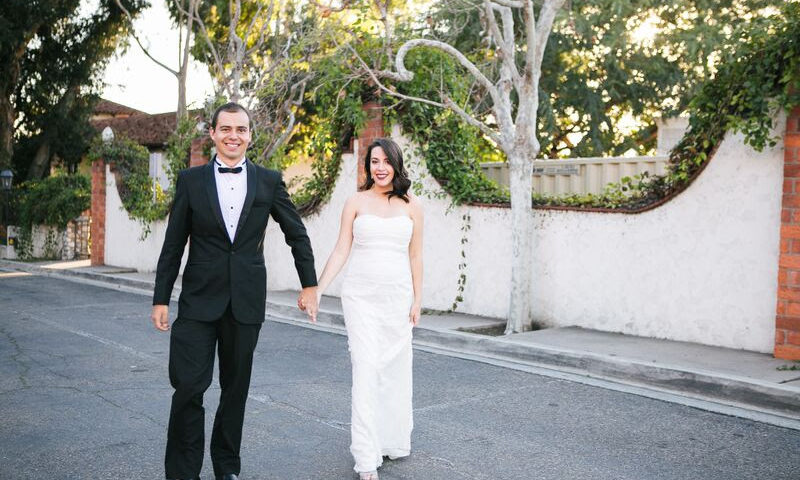 Meghann and Juan Carlos (photo above)
My husband and I met on my very first day of teaching through the Greenheart Travel Teach English in Colombia program in conjunction with Heart for Change.  He was a science instructor at our SENA site. I was the first of two gringo ESL teachers SENA 'La Granja' had ever hosted. He approached me under the guise of practicing English, but our friendship evolved instantly. My goals in traveling to Colombia to teach english were numerous in length, however meeting my Juan Carlos certainly never seemed to be a thinkable possibility.
Throughout my time at SENA, he was my greatest teacher.  He was and is my eyes to a country that has experienced so much over the past 50 years.  His passionate nationality motivated me to be the best ESL teacher I could be, no matter how small my part seemed.  He taught me everything from how to haggle the right (paisa) way, proper salsa dancing (it's in the knees!), which street food carts you can and can't trust, and more.  He made me love him instantly and I fell in love with his country as a result.
Colombia is forever branded on my heart.  It is where his family lives, where our story began and where (surprise!) we found out that we will become parents to a beautiful baby niña in May of 2016. Deciding to go abroad taught me one thing: Life is never what you expect. If you had asked me three years ago if that was the life I would be living, I'd laugh! I am so grateful for the opportunity I had to travel, learn and grow with my local tour guide by my side in Colombia. Here's to the next adventure!
Thank you Greenheart Travel and Heart for Change! Your program's change lives.  XO
Stephanie and Michael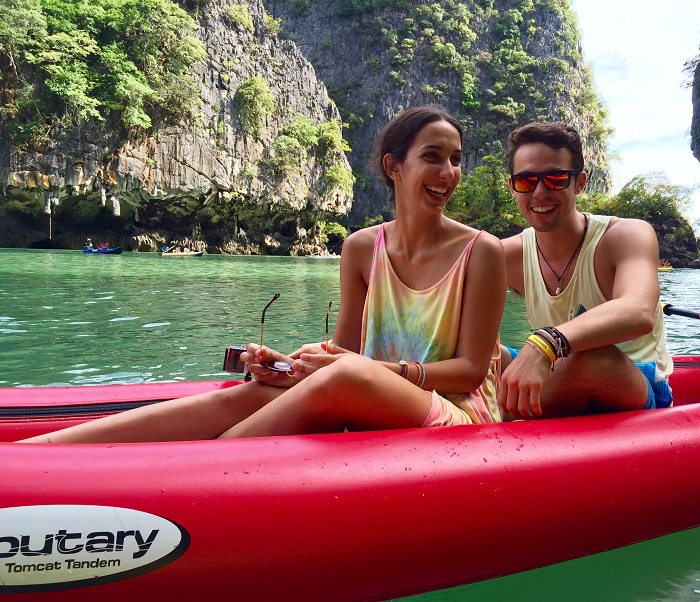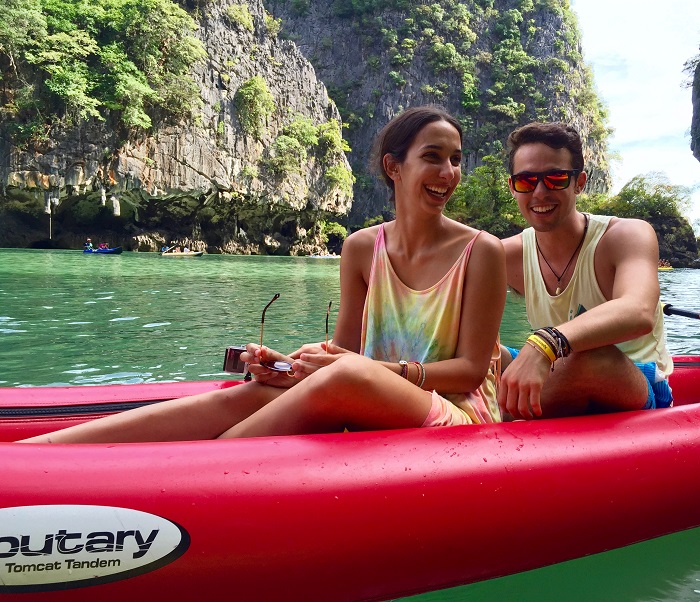 There are many reasons why a person chooses to travel abroad: gaining life experience, finding oneself, the list goes on. In 2014 both us were at a crossroads in our lives, trying to decide whether to follow the "conventional path," or break out of the mold and experience something unique and amazing. Not yet having met one another, and living across the country in completely separate lives, we both made our own decisions to travel across the world to teach English in Thailand.
We arrived a few days early in Bangkok before our program began to get acclimated to our new surroundings and meet the people we'd be training with. After unpacking our luggage and taking a moment to let reality set in, a group of us set out to explore Bangkok nightlife. I don't think either of us went out that night expecting to meet and make a deep connection with somebody we had just met. However, amid all of the excitement Bangkok had to offer, I think we both knew that we had met someone very special.
As we grew closer over the course of the next month during our training program in Hua Hin, it was clear that we both wanted to have a relationship after we all went our separate ways for our teaching placements. During the next few months of teaching, being placed roughly seven hours apart from each other, we made it a point to see each other most weekends. As the school year came to a close, we began to talk more seriously about what would happen once we moved back to the United States.
Today, we're both happily living together in Boston and still get the travel bug from time-to-time as a couple. While we both agree that we originally took the leap abroad to have a solo experience, we're so grateful to have been brought together through this program and had a more incredible experience than either of us could have imagined.
Kyla and James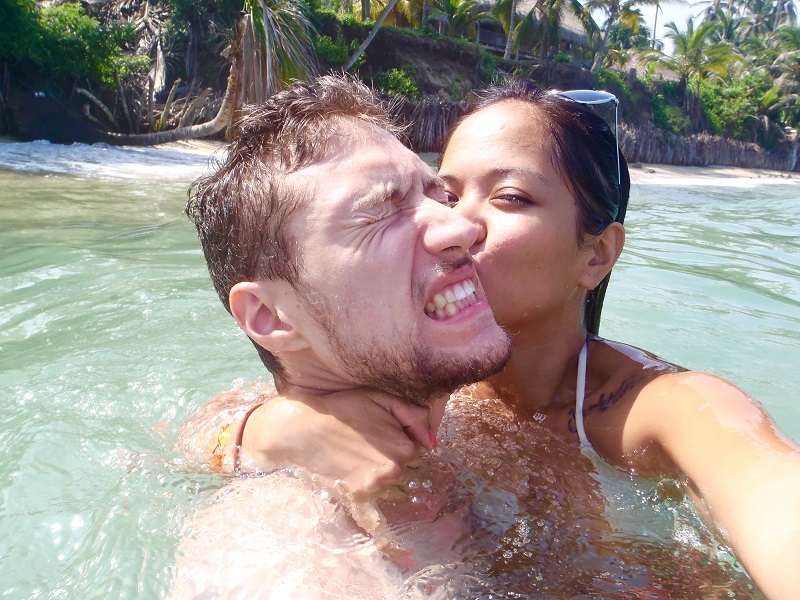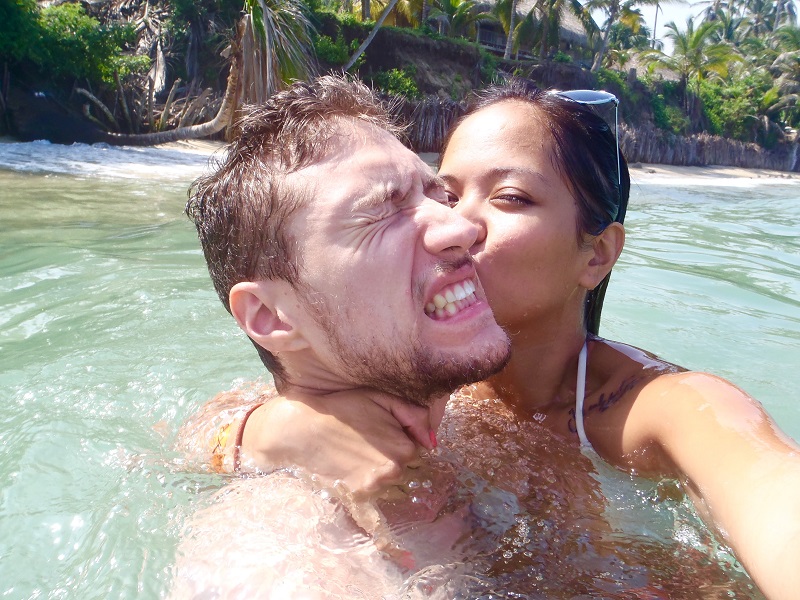 2015 began just like any other year – aside from the fact that we both decided to move abroad to teach English in Colombia. We came to Colombia looking for adventure, fun and a little Salsa. Within the first week of arriving in this new country, we met at the training site and instantly had a connection. Actually, I (Kyla) couldn't remember his name at first and he proved me wrong by remembering mine. A night at Carne de Res then changed our lives forever.
James: Having spent almost the entire last week of training together, whether it was exploring the city of Zipaquira or doing workshops, I was pretty sad to see our time together end. However, her being placed in Girardot and my placement in Cali didn't stop us from visiting each other. I guess I was a good host because I managed to convince her to move to Cali for the second part of the year. After she arrived we eventually moved in together and travelled to the far reaches of Colombia.
Kyla: Moving in together made our bond stronger (and saved us a lot of money for our travels!) We discussed plans for what we would do after Cali and not once was there any doubt we wanted to be together. I had moved to Cali for him, he would return to New York with me. On September 13th, we hiked up Valle de Cocora in Salento and he asked me to be his travel partner for life. We have honeymoon plans to backpack through South Korea, Vietnam, Indonesia and Thailand and then move to New Zealand!!
We were fortunate enough to find partners who shared wild dreams of exploring the world. Many thanks to the forces that brought us together, to the same country, for the same organization, at the SAME. EXACT. TIME. We can't imagine being happier than we are with each other.
Christelle and Myron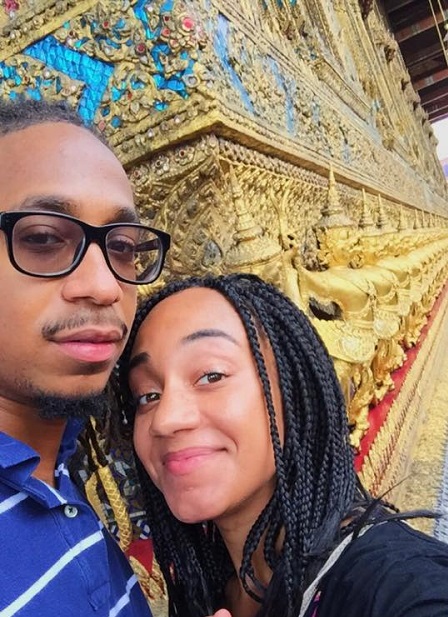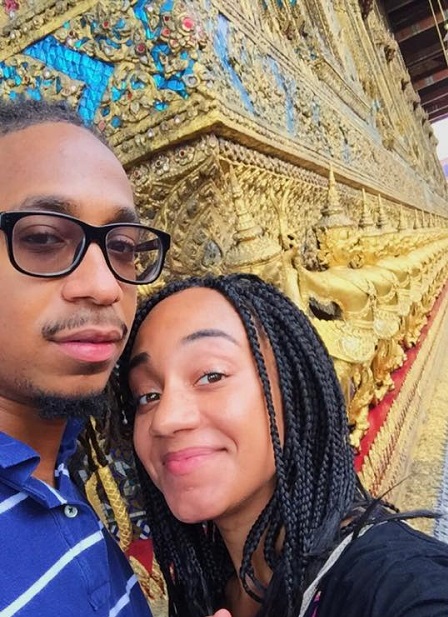 I moved to Chicago after graduating undergrad to volunteer with an Americorps program called City Year. I have always enjoyed working with children and this opportunity allowed me to work in a school with students at risk of dropping out and help them stay in school. It was in this program I met Myron. He was from Chicago, so I enjoyed seeing his beloved city through his eyes and soon enough we had fallen in love.
After a few years of living and working in the Chicago Public School system as a teacher, I started to get an itch to travel. Myron and I found time to visit places like Jamaica and Mexico, but visiting just didn't quite cut it. Soon, we started to look at opportunities to live and work abroad and stumbled across Greenheart Travel's Teach in Thailand program. We suffered through a miserable winter and decided that was the push we needed to escape the cold and have eternal summer for a while while still working as teachers.
Being in Thailand, we recognize how lucky we are to have each other as we go through this journey. The experience has been amazing and we love it here so much we have decided to stay for another semester! It hasn't been without its challenges, but going through it together has made us grow both as individuals and as a couple. We look forward to many more adventures to come, hopefully all around the world.
Sarah and Tyler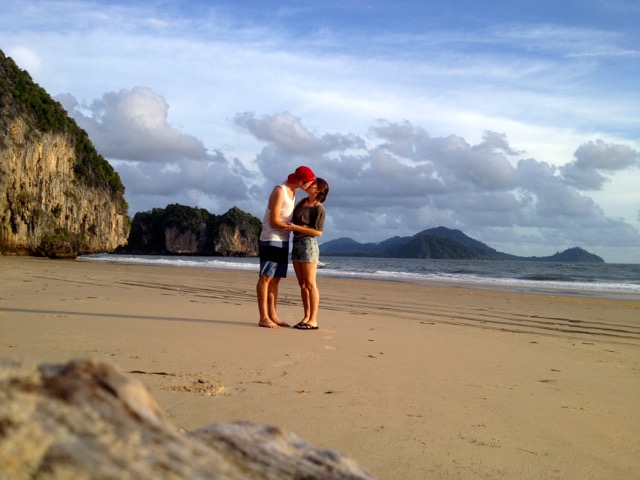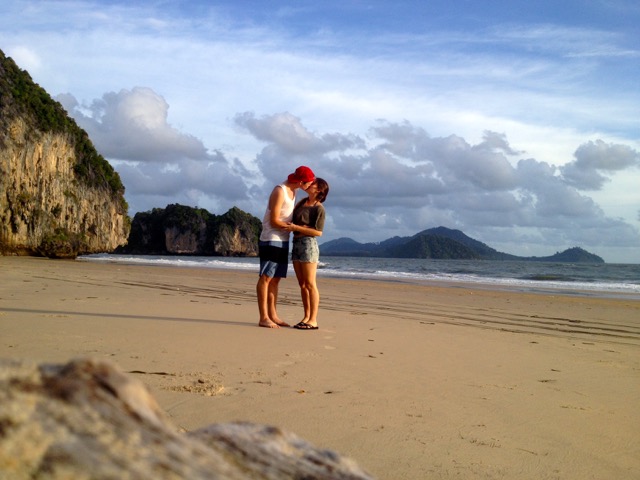 Tyler and I had been married for a little less than a year before we decided to go to Thailand to teach English. We had decided before we got married that we wanted to travel and do something new and adventurous, we just didn't know what. Well, after stumbling across a Greenheart booth at our local farmers market, the rest was history.
Arriving in Thailand had its fair share of anxieties. We had to adjust to so much so quickly. Ty is much more laid back than I. He has a "go-with the flow" personality with I must say, is an asset in Thailand. I, on the other hand, am a planner. I like schedules and consistency. We learned quickly, through orientation and through simply being immersed in the culture that  we would have to be very flexible and willing to "role with the punches". Tyler had no problem with this, while I found myself feeling frustrated at times.
Teaching was crazy! I could write a whole novel about the teaching experience itself, but ultimately what made the whole experience worth while was sharing it with Tyler. We could relate to each other when we had rough day at school, we could laugh with each other about the funny things our students said, we could go on adventures together and take turns driving the motor bike. Everyone would laugh at us when they saw the little farang girl driving the tall farang boy around on the motor bike. We stuck out like a sore thumb 🙂
There were so many unique people, places and experiences in Thailand that was almost impossible to properly describe them to people when we got home. The fact that Tyler and I got to experience all these things together gave us something unique to only us. I was able to see how Tyler grew in the time we were there and vice versa. Travel is an amazing thing in general because it challenges us, stretches us and teaches us so many things we didn't know before. The only thing better than that is sharing it with someone that you care about.
Lisa and Michael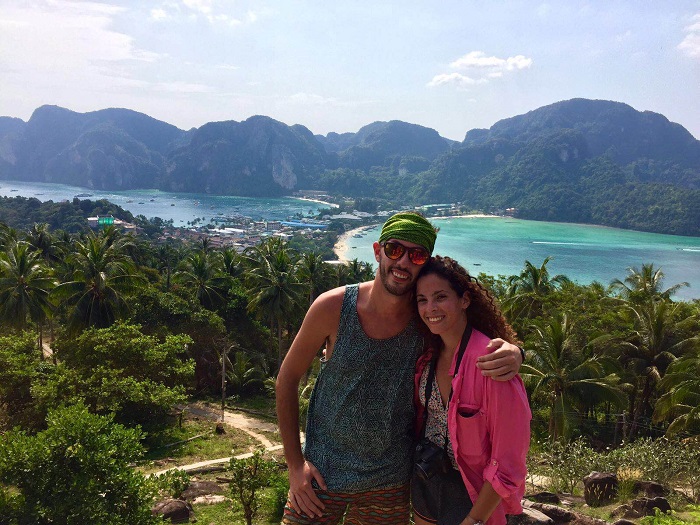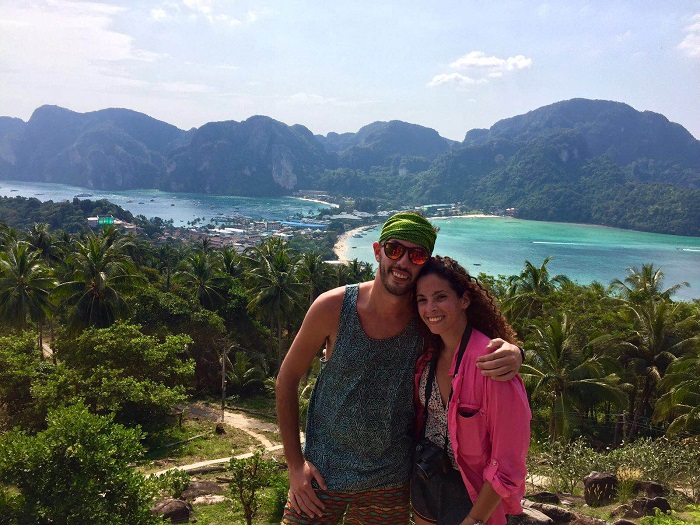 I had a feeling when I started grad school that I would meet someone very special, someone to share many adventures with. And then I met Lisa, the new graduate student. Our initial meeting sparked a year of strong friendship and growing romantic feelings. Eventually, I finally got the courage to ask Lisa out and the rest is history as they say.
Our shared passions and enthusiasm for geography, travel, food and exploration has created a very strong bond between us and has provided the foundation for us to move across the world to immerse ourselves in a new culture.
Together, we made a pact that if we weren't happy with current jobs or had no jobs by October, we would take the plunge and move to a new country to teach English. Before we knew each other, we both dreamed about teaching abroad, so it was only natural that we would want to pursue it together. One night, I stayed up late writing a lengthy letter to persuade Lisa to choose Thailand, and without hesitation she agreed! Thailand's diverse landscapes, exceptional food, plethora of opportunities for exploration, and reputation of its smiling residents provided the perfect country for us to pursue our dreams together. Well, we only lasted until April before we made the final decision to move to and teach in Thailand.
Fast-forward to January, and it's almost 4 months since we have lived in Thailand. We are happier then ever and our relationship has grown in many ways. We love it here! It may not always be easy, but I know there is nothing that we can't handle when we are together! I am very fortunate to be able to share this experience with Lisa.
Make sure you also check out our featured couples from 2015 and 2014!