The Sky is the Limit When Teaching English in Thailand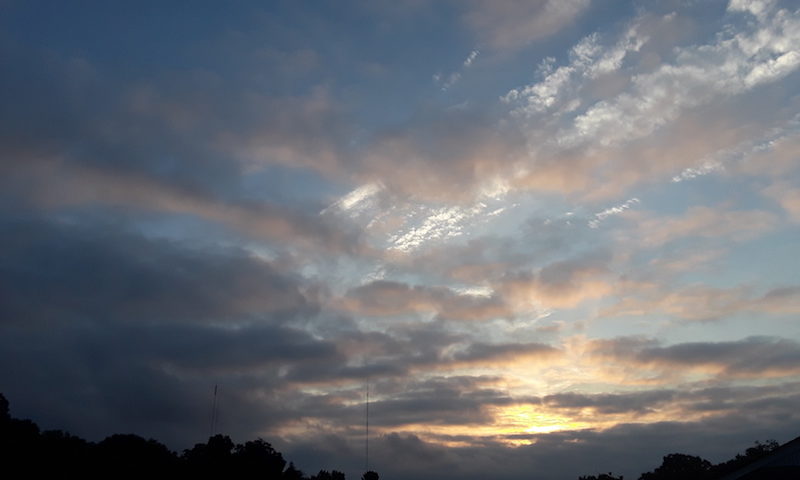 I decided I wanted to teach abroad several years ago. When I told certain friends and family they, knowing me, knew I wasn't joking. One of best friend's in particular said, "Well, if she says she is, she will!" It didn't occur to me at that moment how flattering her statement was. Thinking back now, what it says to me is that I'm deliberate with my intentions and my word is reliable. Consistency, honesty, and genuineness have always been important to me. When someone thinks of my character, I hope those words come to mind. But, deciding I wanted to teach abroad and knowing how to execute it are very different things. Fortunately through this program, much of the guesswork (and therefore the stress!) was eliminated. This allowed me to focus on other very important details, like preparing family and friends and putting my plan to depart in motion.
Telling my friends and family was easy. This is what I want to do. This is important to me. I'm excited; be excited for me! All of this, of course, was in my head. It's not easy telling the ones you love and who love you that you're picking up your whole life and transitioning around the world. Though those closest to me were proud of my decision, it was probably the hardest for my sister. My sister is my best friend-slash-mother figure-slash-travel companion-slash-supporter-slash-slash-slash. We are very close. With her being the oldest, and I the youngest, she has this natural protector trait about her that I have no control over, and dare not to hahaha. I can hop on a plane and meet strangers in another country and I still have to send her my flight itinerary and accommodations before I leave. I've been doing it for years! I can tell that family and friends are very, very happy for me, but it didn't hit me just how big this decision was until I made it official by turning in my letter of resignation. Whoa! "I'm leaving my job to do what!" I've been told by several alumni of the online TEFL course I received my TEFL certification through that I wouldn't have any issue finding a job on the ground if I arrived somewhere without a program, but the added assurance of the Greenheart Travel program helped me sleep so much better at night through this transition. And, my sister too!
Am I nervous about teaching? You better believe it! My background is in higher education. I have been in higher education administration since graduating from college. I have zero teaching background, unless you count correcting my young niece's simple grammar when she was learning to talk. I knew I could go teach in Thailand with just my English Bachelor's degree, but I wanted to do a TEFL certification also. I'm very glad I decided to do so! The program discussed very important topics like classroom management, making lesson plans, and how teaching English as a second language differs greatly from teaching to native-English speakers. I still have my notebook from the course, and plan on taking it with me to Thailand! I'm hoping all the lesson-plan making pays off!
That is also what I'm most excited about, too. Teaching. In Thailand. What, what! No one in my family has taken this kind of venture before. Ten years ago you couldn't tell me I was going to do this. The thought hadn't even crossed my mind. I recently started teaching English online to children. Doing so has only excited me more! Teaching is an incredible and rewarding responsibility. Not only am I their gateway to the English language, but I get to partake in another country's culture. I have never even traveled to Thailand before, but there were so many signs pointing me in Thailand's direction I just knew it had to be. Thailand, from what I hear over and over, is a place you just have to make it to. I cannot believe that I'm not only going to Thailand, but I'm actually going to live there. It makes my heart smile every time I think about it!
It hasn't all been easy though. I have moments reality hits me and I'm like, Wait. I'm going alone. The hardest part about my decision to leave is everyone I'll miss. Friends and family have a chance to visit, but THE toughest decision I needed to make was what to do about my faithful companion, my sweet Champ. Champ is my Boxer boy who I've had since he was 6 weeks old. He's my baby. A big baby too! He just turned ten last month, and just thinking of being without him brings me to tears. The decision to take him with me or keep him at home troubled me many, many nights. How could I abandon him? Does it make me a horrible pet mommy? After doing research on traveling with a pet internationally, I decided it be in Champ's best interest to stay. He's getting older. He's never been on a plane before, and I'm looking at a 13-hour flight from California to Asia. On top of all that, for the first month or so I'm not even sure where I'm going to be. Then there's accommodations. Then there's surroundings and climate, whether or not he could even adjust to all that. I couldn't bear the thought of something happening to him on account of me. So, finding him a loving, responsible, adaptable foster home was among the first on my list of many things to do.
All in all, choosing to go with the Greenheart Travel program has been the best decision I could have made in this entire journey. I'm new at so much about the travel-abroad life, but the staff are so helpful with every step I feel like the biggest barrier to getting me overseas would just be me in my own head. If I could recommend any advice from my perspective is to not put too much stress over the decision to take the leap. The beautiful thing about teaching abroad is it's been done before. Many times. The alumni from this program are so helpful on the Facebook group page. Literally, any question you have has probably been asked there before. If not, there are tons of folks all over the world who have done or are currently in the program who are more than willing to assist. The next piece of advice I'd say is to travel light! I'm getting rid of pretty much everything by donation. Thanks to the Facebook group, I learned where I could go to re-up my phone when I arrive, acquire necessary goods, and how to get around the country. Don't worry about what you don't know – you'll figure it out! And, for everything else, there's an entire community and helpful staff at Greenheart to fill in any missing pieces.
Reminder… the sky is the limit!
Signed,
A wanderlust-in-training 😊
Dani Churchill, from Atlanta, Georgia,  is a Greenheart Travel First Time Traveler Scholarship recipient. Learn more about Greenheart Travel's scholarship opportunities to help you travel for a change!
Are you ready to take the leap and move abroad? Learn more about Teaching English in Thailand!