Forgetting the Past, Not Thinking About the Future, and Living in the Now: Teaching English in Vietnam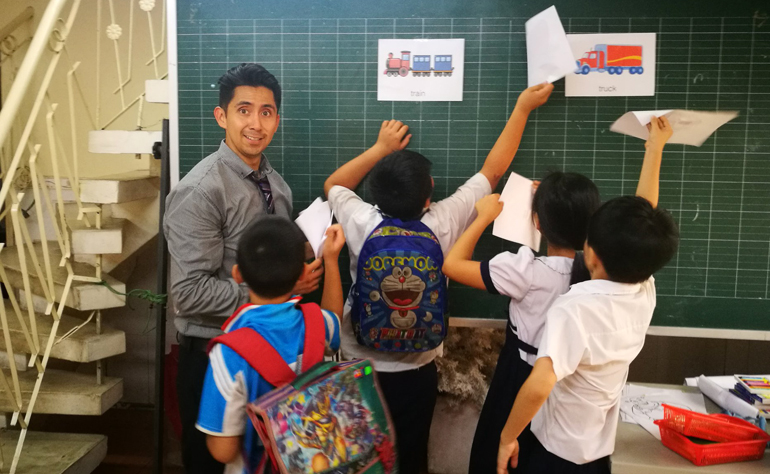 If you would have told me a year ago that I would be where I am now, I would have never believed you.
At this point last year I was married, living in an exquisite apartment in Ellicott City, Maryland, and I was working for a reputable construction management firm. The months following that provided a series of twists and turns that ultimately led to my divorce, living in a small bedroom in Pennsylvania, getting more in touch with the person I had become, and realizing I wasn't happy with various aspects of my life – including my profession.
So, what is a man who is quickly approaching 'middle-aged' status to do? Completely reinvent myself by becoming an English teacher in Vietnam, of course!
What are you most looking forward to about Vietnamese culture?
As a teacher, I am looking forward to learning about the traditional family dynamics across different socio-economic classes in Vietnam. I feel like being a teacher will expose me to not only wealthy families, but also hard-working, blue-collar families that are making a sacrifice to provide their kids with English language lessons.
I am almost expecting to find a lot of similarities to Western cultures and to my own Peruvian roots, but I will have to wait and see what transpires. Besides this, I am looking forward to making Vietnamese friends and learning about the slang, nuances, and proper social cues and etiquette.
In what ways did you prepare for your time in Vietnam before you departed?
My preparation for Vietnam was an interesting one. First and foremost, I was really frugal with my expenditures, and the only high-dollar items I purchased mainly consisted of things I would need/want for the trip. However, I also didn't want to pack too heavily. The biggest issue that almost kept me from not making the trip was the amount of debt I had. I recognized if I let this hold me back by saying "six more months of work so I can pay off this debt", I would never go.
I set a goal for myself to raise enough funds for me to live in Vietnam for three months, plus an extra allowance for a flight ticket back. Once I reached that goal, I focused my energies towards paying-off some urgent debt. Even though I still have debt, I reached the goal I set for myself, and I am currently having an amazing time in Vietnam.
In all honesty, that was the extent of my preparation for the trip; I worked up until the day before my flight and had many responsibilities to take care of before the flight. So, I kept myself very occupied until it was time to leave.
What has been the hardest adjustment to make?
One of the most challenging things to adjust to has definitely been the heat.
This is especially true on days we have to dress up in a shirt, tie and slacks for certain training events. However, I will say I think I'm finally starting to adjust slightly. I still sweat a bunch, but not as profusely as my first week here.
The next thing that immediately comes to mind is the traffic patterns here: mopeds will literally come from any direction except vertical, so it's necessary to keep your head on a swivel. Needless to say, it was a daunting task to learn how to properly cross a street, and I quickly learned the key is to not hesitate and maintain a constant speed/trajectory.
Do you feel like the TESOL certification course is helping to prepare you for your own classroom? If so, how so?
The TESOL certification course has definitely opened my eyes to the various factors that are involved with being an English teacher, and I have definitely learned a lot in the past month. I will highlight the in-field experience as being the most beneficial of all, and learning how to properly put together different types of lesson plans (reading, writing, listening) as a very close second.
What I really enjoyed about the in-field experience is that we had a chance to train at one of the top language centers in the country, and then we contrasted that experience by teaching at a small charity school. These experiences allowed me to experiment with different teaching styles.
At the language center I had very young kids, and I used the approach of a very vibrant and jovial teacher. At the charity school, some of the classrooms had a mixed-age range; but overall, the kids were older. Here, I experimented more with the firm, but supportive approach, and it worked well. I learned so much, and I loved both experiences.
I believe that the TESOL certification course has done a great job in preparing me for my own classroom experience.
Do you have any fears before stepping into your own classroom? Yes? What are they?
I don't necessarily have fears, but I do have some feelings that could possibly be classified as anxiousness. However, I have become really good at re-framing any feelings I don't consider optimal, and most important of all – having faith.
Therefore, I would say I am very excited to be teaching on my own and I am looking forward to learning how to become proficient at lesson planning – especially in terms of content – and making sure the lesson spans the appropriate length of time. In addition to this, I also think it will be an interesting challenge to learn the different personalities of my students and finding ways to apply proper classroom management techniques.
It has now been slightly over a month since I arrived to teach in Vietnam and the time is flying by. I've gotten my TESOL certification, I've received a summer session job placement with a great language center, and I have seven more days of training before I officially start teaching. This is an exhilarating experience, and I can say with much confidence that it's all about forgetting about the past, not thinking too much about the future, and living in the 'now'.
Alvaro Zumaran, from White Plains, New York,  is a Greenheart Travel First Time Traveler Scholarship recipient. Learn more about Greenheart Travel's scholarship opportunities to help you travel for a change!
Is Vietnam calling you for a life-changing adventure, too?