Looking to a Peaceful Future with the Help of a Greenheart Grant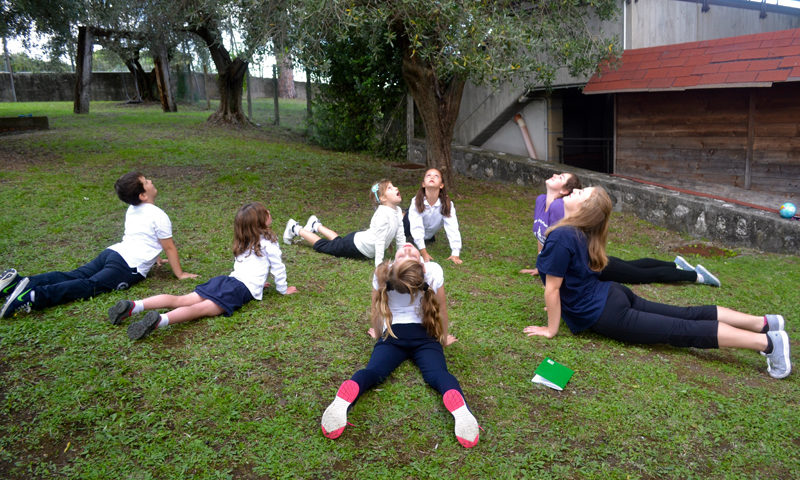 After studying abroad in Austria my senior year of high school, I was very excited to return to Europe for a study abroad semester, and this time to Rome, Italy! At my university, St. John's, I am very proud to be a part of the social justice program known as the Ozanam Scholars; this program emphasizes global citizenship, Vincentian Leadership, and service. Through it, I complete service each week.
I really wanted to do meaningful service while abroad, and even wanted to create something, which is how a Greenheart Grant came into play. I work at Little Friends for Peace's (LFFP's) Summer Peace Camps in an administrative position, and decided to go through both the social justice program and LFFP to develop a site in Rome with the help of the Greenheart Grant. I was able to use the funds from the grant to put together activities, and to get the supplies and materials needed for them.
Summer Peace Camps
LFFP began Peace Camps 35 summers ago, and from there the organization went on to establish many other programs, including peace clubs. The point of the programming is to teach both kids and adults to answer violence with skills for peace. The club aims to teach the concept of peace and these skills to children, and help them to practice in a safe and fun environment.
At peace clubs, safe environments are created so that friendships are fostered, and also so that the children feel they can show their talents and be themselves. It is an ideal learning environment, as they are able to engage in dialogues about service and nonviolence, and are shown examples of actions towards peace.
The activities we did varied each week, but always included a mixture of: cooperative games, stories, social justice lessons, yoga, meditation, peaceful art projects, or sharing talents such as music to teach and live peace. The club helped children to express themselves, make friends, and learn conflict resolution and skills for peace.
Peace Circles
At the beginning of each club we would do a peace circle. This is a practice utilized a lot by LFFP, which helps to create community. We would all sit in a circle and pass around the peace globe which would define who would speak. Each person would share about what brought them peace that day, and what broke their peace. This helped us all get to know each other and to become comfortable, and the lessons would be better understood by all as a result.
When something came up that myself or the other volunteers were able to give advice or guidance on, we would do so. We would also use this opportunity to present lessons on peacemakers, or to create a dialogue on what peace is and how we can spread it. We would end the circle by reciting the LFFP Peace Pledge and doing a song that required stretching. These rituals got the children into the mindset of peace club, and taught skills like respecting those who were talking, and how to participate in a dialogue.
The Peacebuilding Pledge
The Peacebuilding Pledge is one tool we used to ensure the children were aware of their role in creating peace.
The pledge is:
"I am a peace builder. I pledge:
to talk to others with respect,
to treat people with care,
to make peace not break peace,
to build peace
at home,
at school,
and in my neighborhood
each day"
How the Peace Club Made an Impact
All of our activities and lessons aimed to help the children value themselves, and learn how to interact with others in ways that their talents and good hearts are shown. By the end of our eight sessions, the kids were all extremely kind to each other, and sharing stories of how they taught something from the club to their friends or families.
We heard back from two parents who worked at the school that they were already seeing changes in their children, and that they were really enjoying the club. The school's teachers, activities coordinator, and administration all expressed how grateful they were to have such a positive program available to their students.
The other volunteers and I saw these children shine throughout peace club, and are filled with stories and memories of their progress. One girl was so proud of a shirt she had with peace signs on it that she brought it to the club and changed from her uniform shirt into it for the rest of the day. Another girl brought a book in Italian that she thought contained peacemaking, and translated it to all of us during a peace circle. And students that were in the same class seemed to strengthen their friendship because of the club.
Looking to a Peaceful Future
Needless to say, the volunteers and I, LFFP, and the school were all extremely pleased with the outcome of the sessions! The club is approved to continue for the spring semester, as well as in the future, should we continue to provide the same quality programming.
The site helps volunteers to have a peaceful learning experience almost as much as the kids, and requires them to be very active in planning, responsible for leading the children in activities, helping them to learn, and ensuring they are safe. Doing service can really enhance a study-abroad experience, and volunteering at Peace Club will surely help students to perpetuate their skills and peace within themselves.
As part of my involvement with both the program and LFFP, I will make sure the new runners of the site know our mission, our procedures, and our peace philosophy, so that it can remain successful!
Learn how you can travel for a change with the help of a Greenheart Grant!