First Impressions of Teen Summer Language Camp Japan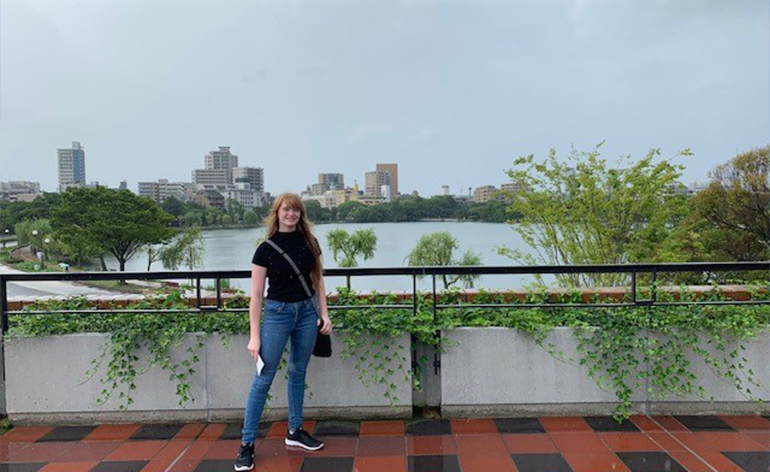 Hi! My name is Madison and I am a part of the teen summer language camp to Fukuoka, Japan. I am 17 years old and staying in Japan for two weeks. My experience here, so far, has been truly amazing and I have seen some amazing things.
When I first arrived on Sunday I was quite worried for Monday because it was my first day of school. I had to take the subway to get there and the thought of traveling alone terrified me. Taking a subway period was new to me, taking a subway in Japan was super scary, by myself … I was facing a challenge. My host family showed me the way on Sunday and tried to make sure I was comfortable. When I was still nervous on Monday, they escorted me. I paid attention and, now, I'm definitely a pro at taking the subway.
Once I had mastered that impressive hurdle. It was time to face school. I was going to be the new kid, but I also realized there would be a bunch of other new kids. When I first walked in, I was extremely nervous. I didn't know what to expect and my imagination had gone rather wild with its own ideas. I watched what the others did and took my shoes off, revealing bright pink socks and sat down at a small table. Some of the other kids were already in groups, so I worried a bit that I wouldn't fit in or find a friend, but … that's when someone sat next to me. And then another, and viola! We started talking and I had my first friends.
I am very shy naturally and felt pretty awkward at the beginning, but rather soon I found it easier and easier to introduce myself. Everyone else was just as nervous and the feeling didn't last long. All I had to do was say hi. Before any of us knew it, it was time for class to begin.
My very first class was a bit crazy. I am still considered a beginner in Japanese, so it was a bit startling when I walked in and discovered there was no English in the classrooms. My teacher who spoke Japanese quite quickly did speak a bit faster than my brain could process. At first, I considered moving down a level, but then thought, "No. I am here for a challenge. I've got this." I'm glad I did. It didn't take long before things started clicking. My brain rewired and the teacher began making sense. My classmates are amazing and my teachers are absolutely wonderful. All of them are very patient with us and understanding when we don't know something. They are happy to help us work through our challenges together. We do have homework every day but my host family helps me with it and makes it fun.
The subway is fun, my host family is spectacular, and my phone memory is running low from all the pictures. I look forward to classes every day and enjoy meeting with my new friends from all over the world. If you're undecided about traveling to Fukuoka, Japan, I encourage you to take that big step. This is truly amazing!
Madison Schuler, from Wyoming, is a Greenheart Travel First Time Traveler Scholarship recipient. Learn more about Greenheart Travel's scholarship opportunities to help you travel for a change!