What If I Don't Make Friends in Thailand?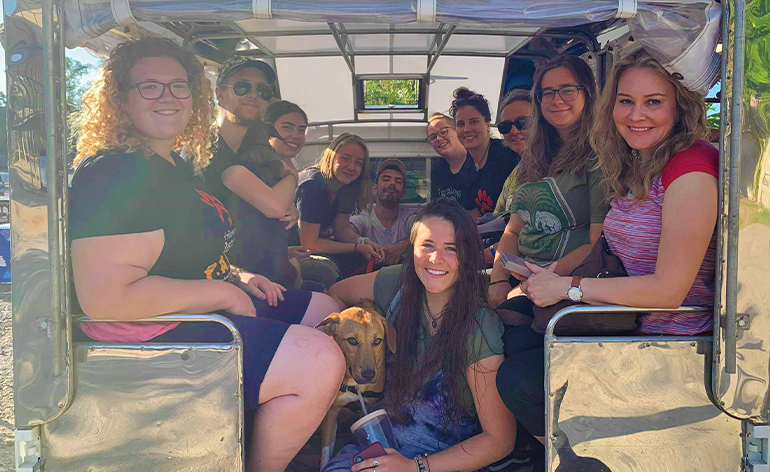 I came alone but I never really felt alone – this is what I said a few months ago during an interview about the Greenheart Travel Marketing Internship in Thailand Program, and it remains true.
Travelling to Thailand was the first time I had ever travelled on my own, and I was nervous. I was travelling to a new country with a completely different culture, where I wouldn't know anyone at all. I was separating myself from my friends, my mom, my boyfriend – my entire support system. I made the decision to travel to Thailand quite impulsively, and the reality of how alone I would be quickly started to weigh on me as my departure date neared. I felt like I was back in primary school: what if I don't make any friends?
Within one hour of landing, I realized that I had been worried for nothing. Immediately upon arriving at my Bangkok hotel and meeting another participant, I made my first friend. Within minutes, I had a new friend group to spend the day with, lounging by the pool and wandering around the famous Chatuchak market. You will not be the only person traveling alone, or the only worried about being lonely. Everyone is nervous, and everyone around you is eagerly looking to forge new relationships in such unknown territory.
Later that day, I was grouped with a large number of foreigners who had come to Thailand to teach English. We were a group of around 40 participants and only three of us were there for the internship program, so, naturally, those there for the internship became particularly close. I feel lucky to be able to say that the other interns I arrived with, or that I met during my time at Rescue P.A.W.S., have become lifelong friends.
I arrived at Rescue P.A.W.S. and was immediately welcomed with excitement. There is a constant influx of new volunteers at RP, so you are always meeting new people. This can be bittersweet as it means that you form many connections with others who soon depart for their next destination – but this also means that you will probably have new friends all over the globe and that you can plan your next trips to go visit them!
If you are ready to immerse yourself into Thai culture, it is hard to be lonely. Nearly everyone around you is willing to be your friend. You will be invited to strangers' birthday parties, you will be asked to sit down for guitar singalongs at the local family restaurant, or you will be asked to come to dinner by someone you met only a few minutes earlier because that is how Thailand works. It is not an individualist society like most of us are used to – it is a community more than I've ever seen one. I am grateful to have been welcomed into such a loving world, and it is a world that I will strive to bring back with me upon returning home.
Michelle Caron-Pawlowsky, from Canada, is a Greenheart Travel First Time Traveler Scholarship recipient. Learn more about Greenheart Travel's scholarship opportunities to help you travel for a change!