Thrilled to Teach, Travel and Grow in Thailand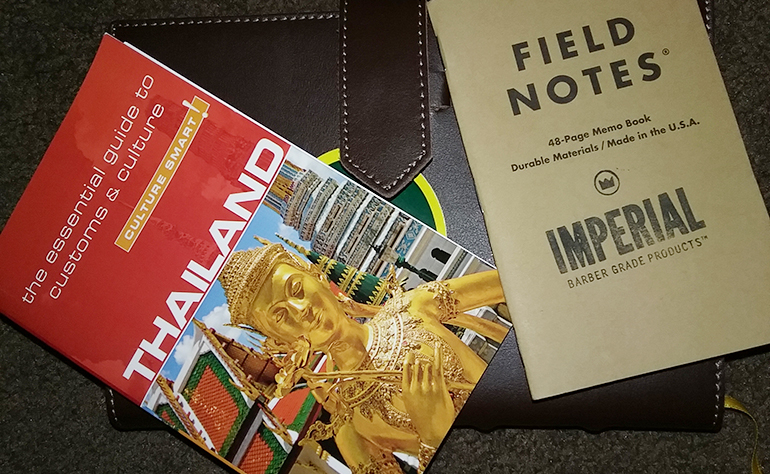 Well here I am, a little less than three weeks before I depart to teach English in Thailand, "The Land of Smiles"!
This is my first of many blogs and I am grateful for this very healthy way to address the process of exploration. I am so thrilled to spend the summer challenged and encompassed by a new culture. I am elated to teach English abroad and enhance the English skills of Thai students. I think this is going to be an unforgettable journey. A once long-awaited decision is now on the horizon. Wow, I am excited! I know I must keep an open heart, mind, body, and soul on this adventure to have the best experience possible. So, I am going to do just that!
Below are some thoughts I have on the journey before I depart:
What are you most looking forward to about Thai culture?
The aspect I am most looking forward to about Thai culture is the language. I am fascinated by the beautiful written characters, sounds, and pronunciation. The vast differences from English to Thai inspire my creativity and intrigue my curiosity.
I am passionate about the challenge of speaking, listening, reading, and writing. I am practicing a little every day and slowly understanding the many details of the unique style and phraseology. The ability to have even the simplest of conversations with a Thai person in their native tongue is going to be the most illuminating and rewarding experience. I am thrilled and cannot wait to explore and show my respect to Thai culture by demonstrating appreciation for the language.
In what ways are you preparing for your time in Thailand before you depart?
There are seven significant ways that I am preparing before my travel to Thailand.
One: I am learning as much of the Thai language as I can.
Two: I am mentally preparing to be away from my family and friends.
Three: I am physically preparing my body to endure the travel and change of environment.
Four: I am gathering all the necessary practical items for the journey to make life a bit easier.
Five: I am making my lesson plans so that I have a basic and flexible teaching structure.
Six: I am keeping an open mind because no matter how much I think I know, unexpected outcomes are certain.
Seven: I am anticipating the best, assembling for the worst, and hoping for an experience of a lifetime.
What do you plan to pack? Why?
Packing is the greatest of all the travel arts. My father taught me how to pack like a biker so everything will certainly fit! I am excited to start organizing, arranging, and see seven weeks of my life compiled into one suitcase. I am mostly taking items for my health including hygiene and medicine. I am focusing on health products because health is the most principal factor to have an excellent time abroad.
As a precaution, Thailand may not have exactly what I need or I may not be able to read product ingredients very well. I want to be at my strongest and healthiest so I can deliver excellent English lessons to my students and explore the country! Health comes first to achieve all else!
What do you hope to achieve as an educator in Thailand?
As an educator in Thailand, I hope to achieve several accomplishments:
I hope to provide an experiential and memorable experience for students.
I plan to finish my innovative textbook using ASL to teach ESL for beginners.
I wish to take my teaching experiences and provide professional development for instructors back home in California.
I hope to expand my knowledge of diversity and connect with more students and teachers.
I want to grow, change, and make a difference on all learning levels of education.
Achieving these goals would connote great accomplishment and success as an ongoing contributor to the life-long learning field.
What do you think you'll miss the most about "home"?
My family and friends are what I will miss most about "home" because my life is about the people I love. The challenges posed by leaving those close to me will be the hardest part of the journey. I am spending a lot of time with my loved ones before I leave and have set up a plan to chat with them as much as I can while I am gone.
They can follow me on Instagram and Google chat is a click away. I am also setting up international calling and mobile Wi-Fi through my phone service provider for easier communication. Since the journey is only seven weeks, I know I will be strong enough to handle the distance but, I sure will miss them!
These five aspects of the adventure before I leave help me reflect on the possibilities and realities before departure. I think looking forward to the Thai culture through language, preparing and packing wisely, working toward my educator achievements, and knowing what I will miss most places an authentic perspective of readiness for the trip. I am thrilled to teach, travel, and grow while abroad in Thailand!
Kristen Andersen, from California, is a Greenheart Travel First Time Traveler Scholarship recipient. Learn more about Greenheart Travel's scholarship opportunities to help you travel for a change!
Do you also want to teach, travel and grow in Thailand?