Announcing Greenheart Travel's First Time Traveler Scholarship Recipients for 2018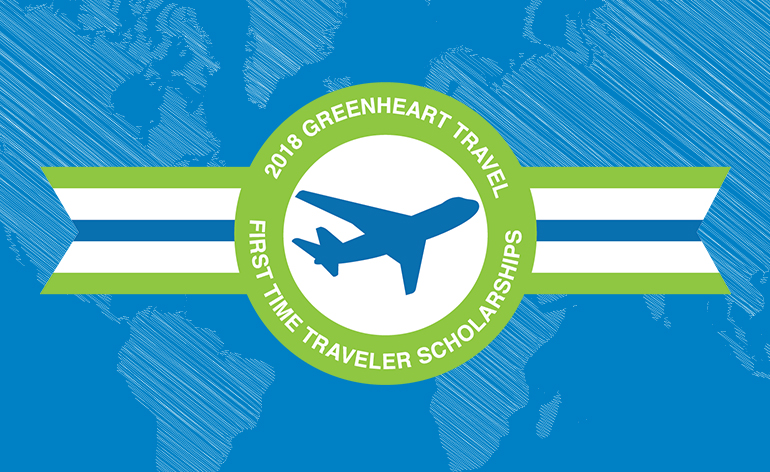 At Greenheart Travel, we encourage everyone to follow their travel aspirations, despite obstacles that may inhibit these goals, and we strive to make travel more accessible. As fellow adventure enthusiasts, we firmly believe when you study, teach, or volunteer abroad, you're embarking on a journey that will significantly impact your global perspective.
This year we chose to focus on providing scholarship grants to individuals who are "first time travelers" and have a desire for cultural immersion. We're thrilled about this diverse group of 'first time travelers' from all over North America, who will represent a wide array of program opportunities we have to offer throughout 2018.
From small-town America to Montreal, Canada, read on to learn more about our 11 outstanding "First Time Traveler Scholarship" recipients for 2018:
Desiring to Make a Lasting Impression in Vietnam: Meet Alvaro Zumaran
Alvaro considers White Plains, New York, to be home. He plans to gain his TESOL certification and teach English in Vietnam this summer with Greenheart Travel. To Alvaro, traveling for a change means immersing in a different culture with the goal of making an impact.
He continues, "It means foregoing staying at a fancy resort, only interacting with the people you're traveling with, and avoiding spending too much time on social media…"
Alvaro hopes to learn more about himself by teaching English in Vietnam. He's at a point in his life where he's seeking clarity. He also desires to leave a lasting impression of compassion, kindness and appreciation.
Leaving Everything She Knows to Travel to the Country of Her Dreams: Meet Danielle Churchill
Danielle has worked in higher education since graduating college. The next journey she's embarking on, though, will take her to the country of her dreams – Thailand! From Atlanta, Georgia, Danielle is leaving everything she knows to depart for the unknown as an English teacher in Thailand starting in September.
"Teaching abroad has long been a dream of mine, but also taps into my passion to educate," she says, "It's a scary decision because I realize I'll be leaving everything I know… But, I also realize it's important to leave everything I know."
Danielle believes traveling for change embraces this concept at the core – that learning about other cultures makes you a better, well-rounded person.
"I have no doubt this travel experience will change my life forever," she admits, "Not only because this is something I've never done before, but I'm also the first in my family to do anything like this…"
As an African- American woman, she hopes to show those she'll encounter abroad that she's more than the stereotypes and images mass media portrays.
"I'm educated, passionate about change, and capable of inspiring the world to be a better place."
And as a citizen of the United States, Danielle wants to represent the good she knows many in this country still possess.
Conquering the Fear of Traveling Alone: Meet James DuVal
James "Joseph" DuVal is a rising ninth grader from New Kent County, Virginia. He'll be heading to Salamanca, Spain, for six weeks in June as part of the Greenheart Travel Teen Summer Language Camp program. For James, traveling for a change is the opportunity to learn a new language and culture while being part of another community and family.
"This first time travel experience will help me conquer the fear of traveling alone," he shares, "This experience will also help me have confidence that I can handle whatever comes my way."
James looks forward to going back to Virginia and sharing his adventures and experiences from a different perspective and culture. Making a positive difference in the lives of those he meets along the way is something James hopes for as well.
Defying Small-Town Stereotypes: Meet Fiona MacDonald
Fiona is currently a junior at high school in Cantwell, Alaska. Beginning in August, she's going to study in Sweden with Greenheart Travel as an exchange student. The chance to travel for a change is the reason Fiona is going to attend high school in another country.
"I'm not just traveling to change myself," she reveals, "I also want to take what I experience and share it with young girls in my small town."
Fiona strongly believes the opportunity to travel at a young age and experience other cultures and ways of life can open a person's eyes to world, and the biggest takeaway she wants others to learn from her example is that where you come from doesn't define where you can go.
Creating a Sense of Independence Abroad: Meet Georgia Gazette
Originally raised in Little Rock, Arkansas, Georgia's current residence of Fayetteville has felt more like a home over the last four years than the urban epicenter of her childhood.
In the insulated heart of the Ozark Mountains, Georgia works as the administrative coordinator for the Office for Sustainability. In this role, she's helped promote environmental understanding, advocate for parks and trails, and seeks out an interconnection between community and city.
Georgia is excited to leave for Thailand in June to teach English.
"I hope to gain a new awareness of myself and how I can contribute to the world at large," she informs, "It's important for me to create a sense of independence and to marry this independence with change."
Georgia hopes she'll incite the same sense of motivation and strength with those she meets along the way!
Seeking to Bring a New Perspective and a Fresh View in Sri Lanka: Meet Jessica Hovermale
Jessica is a high school sophomore in Corvallis, Oregon. She loves to dance, draw and volunteer in her free time. This summer she'll be venturing to Sri Lanka for the Elephant Conservation Volunteer Project with Greenheart Travel. To Jessica, traveling for a change means traveling for a reason other than a vacation to relax.
"It means traveling with an open mind to learn something new," she states, "It means being able to see things from a new perspective and taking newfound knowledge and implementing that mindset into daily life at home."
Jessica believes she'll have the opportunity to learn about the ways other people live by traveling to a new place very different from where she's from. She also hopes she can bring a new perspective and fresh view to those around her in Sri Lanka.
Hoping to Gain Confidence as a Young Woman Traveling Solo: Meet Katie Gentile
Katie teaches second grade for Eastern Lancaster County School District in Ephrata, Pennsylvania. Outside of teaching, she coaches a program called "Girls on the Run", which she affirms has been super beneficial for the young women involved. Once the school year wraps up, she's going to Thailand to teach English.
"While in Thailand, I'm hoping to grow both personally and professionally," she remarks, "I'd like to gain confidence in myself as a young woman traveling alone for the first time and experience all that Thailand has to offer."
Katie wants to bring back as much as she can to share with her home school district, one she's taught in for five years, to make that global connection. She also thinks connecting with others and sharing her own life experiences while in Thailand will be impactful.
Aiming to Inspire Others to Explore: Meet Nini Vo
Home for Nini is anywhere that comforts and provides loving arms. When she imagines home, she doesn't just see a place or a bed; she sees warmth and embrace. At the moment, Nini is a senior at a high school in Houston. She'll be leaving in the fall to teach English to a host family in Spain.
For Nini, "Traveling for a change means stepping out of that conformity, taking a risk to learn about something you can't try to understand by listening and reading for it, rather than living in it."
Nini hopes her first travel experience will only be the beginning of many journeys.
"I want it be an experience that will help me gain confidence, appreciation, and to become more aware of different lifestyles and the stories behind all of them."
Nini is also optimistic she'll be able to share her stories with those she meets abroad – in exchange for theirs – with the aim to inspire others to take the leap and begin to explore for themselves.
Aspiring to Share Her Culture and Educational Expertise in Thailand: Meet Kristen Andersen
Home is many places for Kristen – especially when she's with family and friends. But, as far as states go, she calls California home. She's a recent doctoral graduate with her Doctorate of Education, and is currently questing for a full-time professional position in education and other fields. Simultaneously, Kristen is co-authoring several books, compiling an ESL through ASL textbook, and creating meditation and rhythmic music among other hobbies. Through Greenheart Travel, she'll be teaching in Thailand for seven weeks this summer.
"To me, traveling for a change means stepping out of the comfort zone I call home and exploring the environments and cultures of other people," Kristen adds," The change will occur externally and internally as I embark on a new journey into the unknowns of Thailand."
Kristen knows change is something that happens socially, professionally, physically, mentally, and spiritually among other facets of life.
"Traveling will influence these changes and self-evolution will transform me and the students I instruct. Becoming more self-aware and conscious of others will enrich the travel for change experience and connections made with the Thai people."
Kristen hopes this experience will eliminate her irrational internal fears of the unknown, expand her cultural perspective on living another way of life, and grow her network of educational knowledge of curricular design and instruction. She also aspires to impact those she encounters in Thailand by sharing the positivity of Californian culture and delivering her educational expertise.
Getting Ready to Share the Love with Stray Dogs in Thailand: Meet Michelle Caron-Pawlowsky
Michelle is currently studying for her Bachelor's in Photography at Concordia in Montreal, Canada. In November, she's heading to Thailand to do a three-month internship at Greenheart Travel's stray dog rescue project in Hua Hin.
According to Michelle, "Traveling for a change means traveling with the purpose of engaging with the culture and community, aiming to give back to those in need… It's the difference between passively moving through a country and traveling with the intent of contributing, collaborating, and participating in the social fabric of the society."
Michelle hopes her first travel experience will give her a broader and more comprehensive understanding of the world. Having never really gone outside of North America, she knows no matter how much she reads or tries to understand things about other parts of the world, she can only really get to know them through experience.
"I'd like to make a positive impact on those I encounter in any way possible," she exclaims, "But, mostly I hope to kiss a lot of dogs on the nose."
Dreaming of Living in Japan and Learning Japanese: Meet Emily Pipkin
Emily feels like home is where she can be loved and learn, and she believes love is an important part of any home. She lives in the small town of Moro and attends high school in the Village of Bethalto, Illinois. Emily stays active at school by participating in jazz band, the National Honor Society, theatrical performances and the like. She's getting excited to attend Greenheart Travel's Summer Language Camp in Fukuoka, Japan.
For Emily, to travel for a change means she can travel while making a difference in her life and the lives of others.
"It isn't only changing my environment but, when I leave my host country, I hope to have changed the way I think about the world around me."
Emily goes on to say, "Traveling for a change also impacts others because of all the stories I'll have to tell when I get home. I want to provide information on my experience so others can think about traveling and learning new languages as well."
Living in Japan has been a dream of Emily's for a long time, and she's been studying Japanese for six years. She wants to visit Japan before she makes the decision to continue to study Japanese.
"Living in Fukuoka won't only bring me new knowledge, but it'll help me understand a different culture and decide if I want to eventually live in Japan."